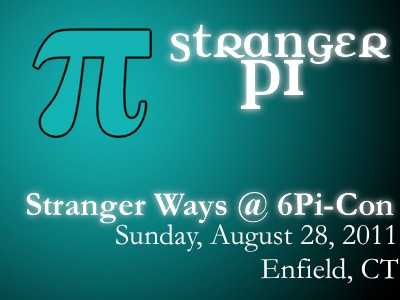 Where: 6Pi-Con at the Holiday Inn Enfield-Springfield, Enfield, CT
When: Sunday, August 28, 2011 · 1:00 – 2:00 pm
We're pleased to announce that Stranger Ways 2.0 will debut at 6Pi-Con, a diverse collection of geeks and geekery in the beautiful Pioneer Valley! We'll be playing all the old Stranger Ways favorites as well as some new material.
Stranger Ways CDs and download cards will, as usual, be available for purchase.
We hope to see y'all at 6Pi-Con!